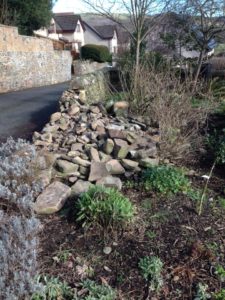 A runaway car has demolished a large section of the Community Garden's drystane wall on Tower Road.  The car had been parked in Tower Road with the handbrake off, and went for a roll down the hill.
Thankfully nobody was injured in the accident, but the gardening team were horrified to see the damage.  They are hoping the wall will be reinstated soon, so they can recover the planting trapped beneath the rubble and restore the damaged section of garden.
The driver of the vehicle contacted the Darnick Village Development Trust, which is responsible for the garden, to admit to the accident and is organising the repair of the wall.