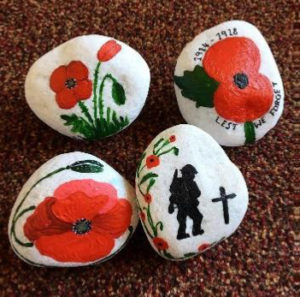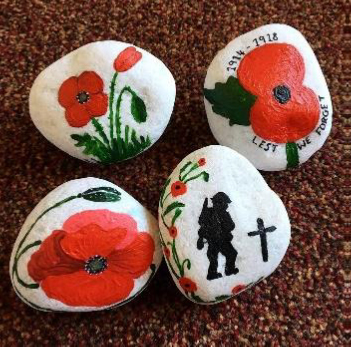 Sadly, due to Covid-19, the annual Remembrance Service this year, as with all such gatherings, is not permitted under government guidelines.  However, there are ways to remember and not forget.
In a non-public event, wreaths will still be laid at the War Memorial on Sunday, 8th November.
And villagers may like to follow an initiative being carried out by other communities to mark remembrance this year by painting stones with a poppy and placing them around the area.  The stones could then be picked up by children and placed in the garden area below the War Memorial outside the Smith Memorial Hall or any other War Memorial.
It is also worth remembering that the Poppy Appeal is suffering badly as thousands of dedicated Poppy Appeal volunteers are unable to collect due to the coronavirus pandemic. Your support is more important than ever. Each donation helps to make a life-changing difference to our Armed Forces community, so if you wish to make a donation you can do so via:-
https://secure.artezglobal.com/registrant/DonationPage.aspx?eventid=44087