Darnick: The name comes from two Anglo-saxon words 'derne' meaning hidden and 'wic' a dwelling. It has transposed from Dernewic, Dernwic and Darnwick to the present spelling. First recorded in 1124.
Skirmish Hill by Darnick is the site of a battle which took place on June 18th, 1526, between the Scotts of Buccleuch and the Kerrs of Ferniehirst, trying to intercept King James V who was then under the guardianship of Archibald Douglas, 6th Earl of Angus.
Places of Interest
• Smith Memorial Hall – the village hall for Darnick dedicated to the memory of John Smith in 1896. Constructed  in 1869, the hall has set into the front, the War Memorial Plaques for those who died in the two World Wars.  A history of the hall is available to download: Smith Memorial Hall History
• Towers – two still standing, one until recently, occupied. Darnick Tower first built about 1425 by the Heiton family who had come over from France. This tower has in its grounds the remains of Fisher's Tower. Interestingly, the wife of Andrew Heiton, whose initials are on Darnick Tower, was Katherine Fisher. Darnick Tower is now a private house. Nothing now remains of the third tower.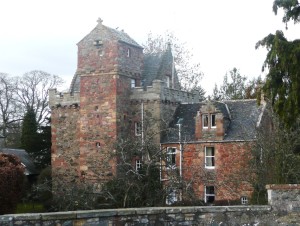 • Darnick Community Woodland Walk – a newly opened walk around a newly planted woodland Shunter's Wud and Little Shunter's Wud.
Famous People Associated with Darnick
• The Smith family – This family were builders and masons based in Darnick and working from the early 1800's through until the 1850's. Most of the major houses built in the area during this period were worked on by one of the family. A list of these reads like an index of the major works of the time: Melrose Parish Church, Dryburgh Abbey House, Chiefswood, Abbotsford (extension), Gattonside House, Yetholm Parish Church, St Boswells Schoolhouse, Eckford Church etc.  In addition to house and churches, they also built bridges amongst which are: North Bridge Hawick, Hermitage Water Bridge, Faulshope Bridge at Bowhill.
The Wallace Statue at Dryburgh was also the work of the family.
• Andrew Currie, a sculptor who carried out his work in a workshop in the grounds of Darnick Tower from about 1859 onwards. Amongst his work are: Mungo Park statue in Selkirk; The Ettrick Shepherd at St Mary's Loch, the Bruce Monument at Stirling; figures on the Scott Monument in Princes' Street Edinburgh. He died in 1891 and is buried in Weirhill Cemetery, Melrose.